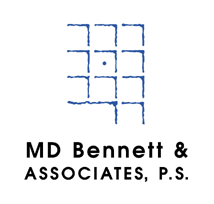 MD Bennett & Associates, P.S. is a CPA firm specializing in accountancy and tax preparation for individuals and small businesses.

We take pride in providing great service. To get an idea of our focus as an accounting service provider, please read our
Mission Statement
.
For the 2022 filing season you may forward all your tax information once you are confident you have everything, preferably no later than mid-February. Even if you are missing a few of your tax source documents, we'd like you to forward what you do have by February 15 so that we can get started for you. You may mail, FedEx/UPS, or upload your tax source documents if you don't have a need to meet to discuss particular tax issues. Alternatively, if you are an existing client and want to meet with Mark to discuss an accountancy or tax matter, please
click here
to set up an appointment. Because we work out of our home office, we generally meet with clients via telephone, Zoom, or at Issaquah Starbucks locations.
OUR RATES, GENERALLY BILLED IN SIX MINUTE INCREMENTS:
Our hourly rates for the 2022 filing season are: $240/hr. for CPA work, tax preparation and consulting; $132/hr. for staff income tax, payroll tax and B&O tax preparation; and $66 assembly work. We will bill our time inclusive of meetings, phone calls/emails, research, preparation, assembly, and scanning/copying. We have often found that a "quick question" is not so quick to answer given the background and tax law usually involved, but we are fair in our time keeping. You will get good value for the work you ask us to do. For income tax return preparation, we charge a base fee to cover technology, supplies, etc. For 2022: Federal individual, $190; State individual, $65; Federal Corporation, LLC, or Partnership; $450; State business, $235; plus the time incurred to prepare at the above rates. Total fee for tax return preparation varies depending on the complexity of the tax return, the condition of the tax source documents, how many times we "touch" the body of work, and how well organized a client is; all of which affect how much time it takes to prepare an accurate tax return. $500 - $800 for the "typical" individual income tax return. $1,500 - $2,500 for the "typical" business entity income tax return, but this assumes the business' financial records are in good shape and match the business' most recently filed tax return. Unless you opt out, we always deliver a hard copy of your return via the mail and soft copy of your return to your SmartVault file. At this time, to provide the best service to our many existing clients, we are not taking on new clients.
---
MD Bennett & Associates, P.S.
105 Spring Hill Road
Chimacum, WA 98325
Office hours:
Office hours by appointment, please
click here
or call to schedule.
voice: 206-232-1040 -- Mark Bennett, x14; Karen Bennett, x10
fax: 206-232-4868